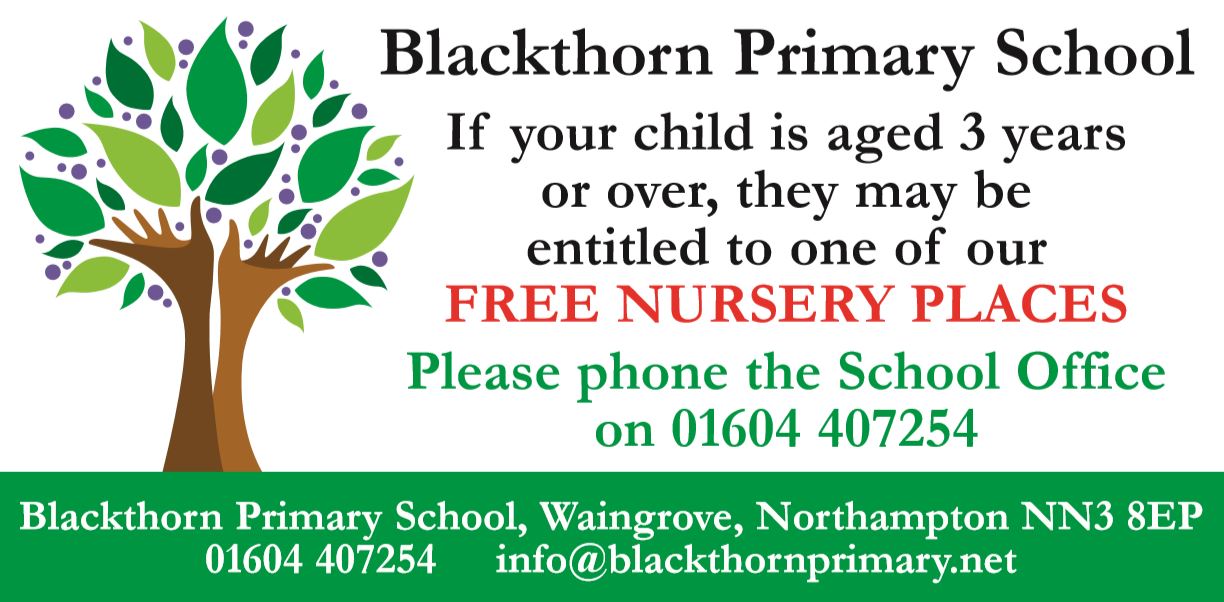 Welcome to Blackthorn Primary School Nursery
Attending a good quality nursery is proven to provide children to support children's learning, building a firm foundation both socially and academically -on which they can successfully continue to build on as they move through the school.
Our Nursery is an important part of our school and sits within our Early Years area adjacent to our Reception class. Nursery children have a large classroom as well as their own outdoor playing area, which is partially covered so that children can play outside in all weathers. Our well-resourced nursery is staffed by qualified and experienced practitioners and led by a qualified teacher.
Children are able to start attending our nursery in the term after they turn 3 years old. Parents are encouraged to apply for a nursery place once their child has turned 2 years old and their name will go on our waiting list.
Please contact the school office on 01604 407254 if you would like a tour of our Nursery and School.
Nursery information
All three year olds are currently entitled to a FREE Nursery place for 15 hours per week
Opening hours: All of our children attend nursery every morning Monday to Friday 8.40am-11.45am
Lunch club
Parents are welcome to book a lunch club place for their child. The cost is £3 per session. Children will need to bring their own packed lunch. The session runs from 11.45-12.45. If you require any more details, please contact the school office, or speak to a member of the EYFS Team.
How can you help your child prepare for Nursery?
*Teach your child to use the toilet independently. It doesn't matter if they have 'toilet accidents' just keep at least one change of clothes in your child's locker and staff can help them keep clean, dry and comfortable.
*Ensure your child can put on and fasten their own coat.
*Help your child to be able to recognise their own name.
*If your child is showing a particular interest in wanting to 'write' then we would encourage a strong tripod pencil hold as the most important starting point. If they start to copy letter shapes then lower case letters are our first focus.