Blackthorn Primary School is committed to safeguarding and promoting the welfare of all of its pupils. Safeguarding is the responsibility of all school staff, governors and volunteers at our school.
Blackthorn Primary School we are dedicated to ensuring:
An environment where children and adults feel safe, secure and happy.
A place where children can talk about their worries and they are listened to.
Highly trained staff are able to identify welfare concerns and take appropriate action to address their them.
Children know who their network of trusted adults are. (Protective Behaviours Hand)
Every child learns how to stay safe, healthy and happy through a high quality PSHE curriculum and strong school ethos.
Vulnerable children and families are supported.
If you have any concerns about the welfare of a child in our school please speak to our Safeguarding Designated Leads:
Designated Safeguarding Lead - Mrs Becca Williams (Headteacher)
Deputy Safeguarding Leads:
Miss Stacey Hillyard (Lead Family Support Worker)
Mrs Claire Heath (Family Worker)
Mrs Kate Smith (SENco and Inclusion Lead)
Mrs Paulette Johnson (Assistant Head)
Mrs Sam Chambers (Office Manager)
Mrs Jo Surynt (EYFS Lead)
Click on our Safeguarding Leaflet to find out more from all of our Safeguarding documents below.
Please read our Safeguarding and Child Protection Policy (available in the side bar on the right) for more information.
Our Early Help Offer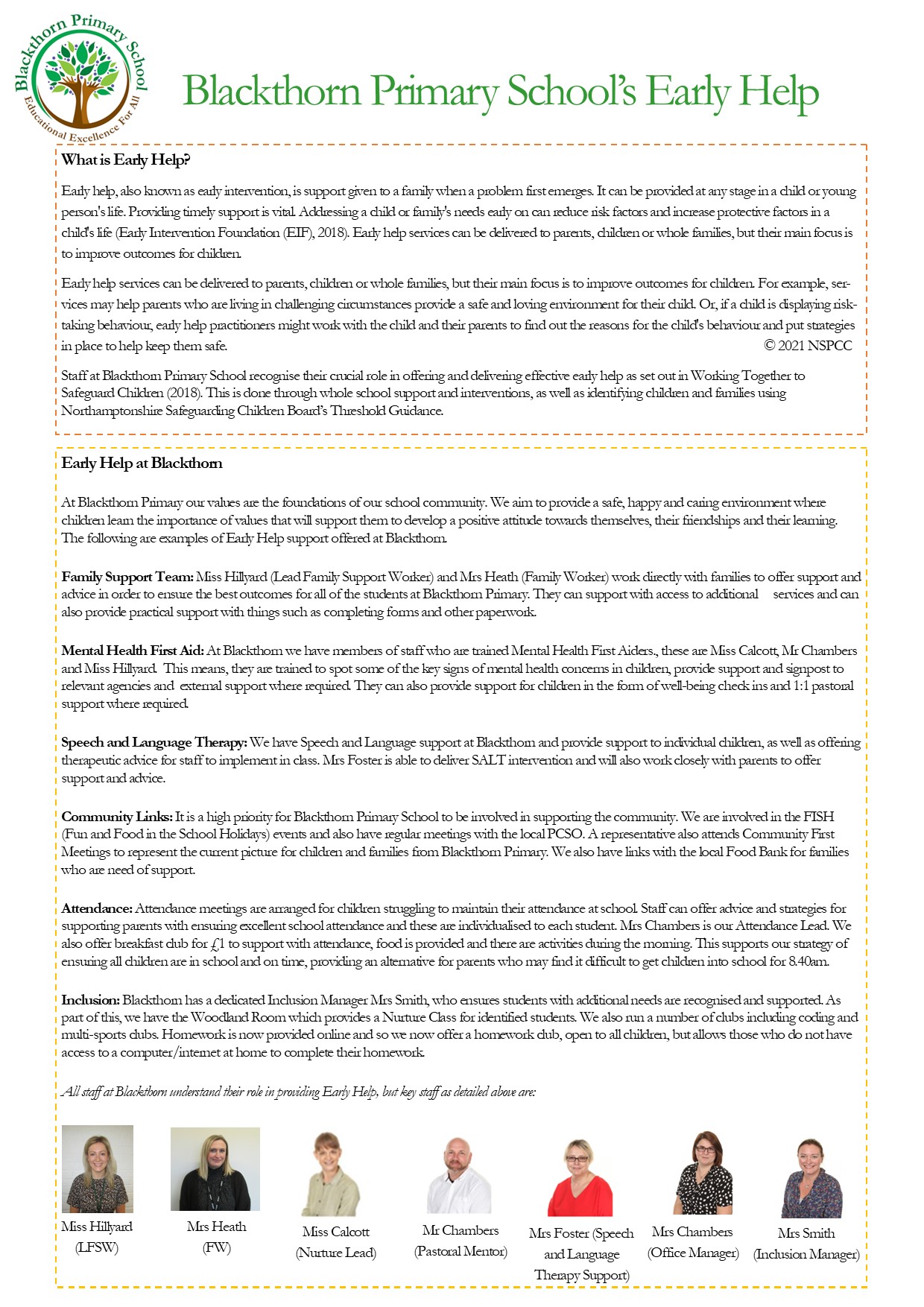 See our leaflet on Early Help, located in the side bar, for further details.
Multi-Agency Safeguarding Hub (M.A.S.H)
At Blackthorn Primary School we believe that all children have a right to grow up and learn in a safe and secure environment. If we have any concerns about a child's safety we will speak to you as parents in the first instance. Often through us talking things through the concerns that have been raised are explained or further support is arranged and we move forward from there. Very occasionally we have concerns raised that we may feel, by talking directly with you, may put the child more at risk. In some instances these cases are then referred to Social Services. This procedure enables us to protect children at risk and we make no apology for taking the attitude that where there are grounds for suspicion it is better to be safe than sorry. Unfortunately this means that we risk upsetting some parents by reporting a case, which upon investigation proves unfounded.
The Multi-Agency Safeguarding Hub (MASH) deals with referrals from professionals and members of the public who may have concerns about a child's welfare following contact with the helpline that is now also based in the Multi-Agency Safeguarding Hub. It makes the process of dealing with referrals quicker and more effective by improving the way county council: Children's social care, Northamptonshire Fire and Rescue Service (NFRS), Youth Offending Service (YOS) and education, work alongside other partner agency colleagues including Northamptonshire police, Northamptonshire health partners, National Probation Service, and the East Midlands Ambulance Service (EMAS) to share information.
If you are worried about a child outside of school time you can call the local Multi Agency Support Hub for advice (anonymously if needs be).
Contact M.A.S.H
By telephone contact to the Multi-Agency Safeguarding Hub: 0300 126 7000;